| | |
| --- | --- |
| Living With Multilingualism | |
Being a first generation American-Persian, I've had a bit of a different experience than most of the kids I grew up with. Growing up in a predominantly white, "family money" area, being the child of immigrants was a little bit different. In our home, my parents are constantly speaking to those around them, including myself, in Persian. Yet, I always choose to respond to them in English. Although I have a basic understanding of the Persian language, much of what I pick up on is based on inflections in their voices, their hand gestures, and the reactions of others. With my parents, they have the ability to converse with a mix of Persian and English, but my grandparents do not speak a word of English.

This is very similar to Rajani, in the Canagarajah reading, as she picks up on what her family is saying and responds in English. Both Rajani and her mother have a receptive competence in each other's native tongues. Canagarajah points out that without this ability to converse, there would be serious consequences in terms of the ability to create family relationships. Personally, my relationship with my grandparents has enhanced my upbringing as I learned of and participated in many things that make up the Persian identity. We did not do this through verbal communication, but rather though a certain receptiveness that is based on "context, gestures, and objects in the setting".
Powered by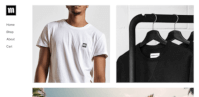 Create your own unique website with customizable templates.